Holiday Ao Nang Beach Resort, Krabi is the best family resort in Krabi with access to beautiful Nopparat Thara beach and a playful sense of tropical fun from water slides to free-form pools and a swim-up bar.
Our resort has the largest kids club with full facilities. Our Family Experience is second to none in the local area with wide a range of room options to suit your family size and budget. All children are given Kid's Club membership and our activities program provides daily changing in-door and out-doors options. The kid's pool is the highlight with fountains and 4 water slides to suit every age. Paid babysitting services are also available.
Couples will be pampered in our exclusive adult-only Couples Wing with a private pool and premium amenities. There are a variety of room types including direct pool access rooms, large balconies, pool views and garden views, and much more. A private swim-up pool bar offers daily Happy Hour and a range of easy dining options.
Perfectly located across tranquil Nopparat Thara Beach (a 1-minute walk), the resort is only a short distance to stroll to dining, shopping, and entertainment areas. It is the ideal base to explore Krabi and the nearby exotic islands, national parks, and tourist attractions.
Holiday Ao Nang Beach Resort, Krabi is a 25-minute drive to Krabi Town and a 35-minute drive from Krabi International Airport.

AIRPORTS
Krabi International Airport (KBV) - 26 Kms (40 minutes by car)
Phuket International Airport (HKT) - 144 Kms (2 hours & 15 minutes by car)

MOST POPULAR LANDMARKS
Noppharathara Beach - 10 m
Ao Nang Beach - 500 m
Ao Nang Night Market - 370 m
Ao Nang Krabi Thai Boxing Stadium - 750 m
Aqua Vision Dive Center - 790 m
International medical clinic - 550 m
Railay Beach - 4.0 km
PhraNang Cave Beach - 4.6 km
Phra Nang Cave - 4.8 km
Poda Island - 7.2 km
Tup Island - 8.8 km
Tiger Cave Temple (Wat Tham Suea) - 15.3 km
Hong Islands - 40.0 km
Emerald Pool (Sa Morakot) - 51.5 km
Massage Corner - 400 m
Thanon Klong Haeng - 640 m
Ao Nang Group - 650 m
S.Y. Pharmacy - 680 m
DeCare Pharmacy - 720 m

10 BEST PLACES TO VISIT IN KRABI
1. RAILAY BEACH & CAVES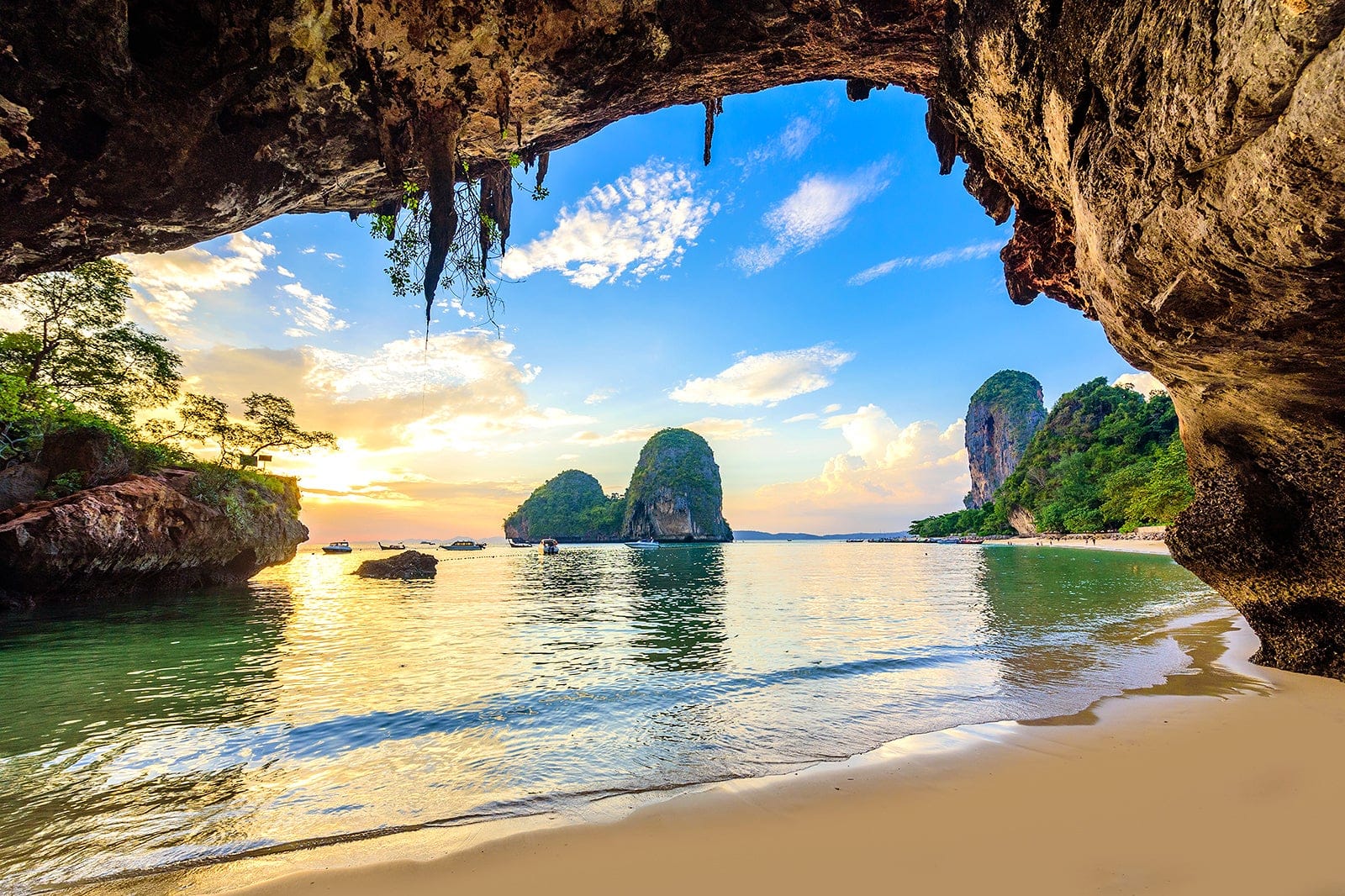 Railay is one of Thailand's most sought-after beach areas. Located just south of Ao Nang and accessible only by boat, Railay presents a timeless serene world. In just a single small peninsula, you'll find 4 gorgeous white-sand beaches, soaring limestone cliffs, viewpoints, caves, and a lagoon hidden inside the cliffs. It's no wonder that Railay is one of the most visited places in Krabi.
2. KOH PODA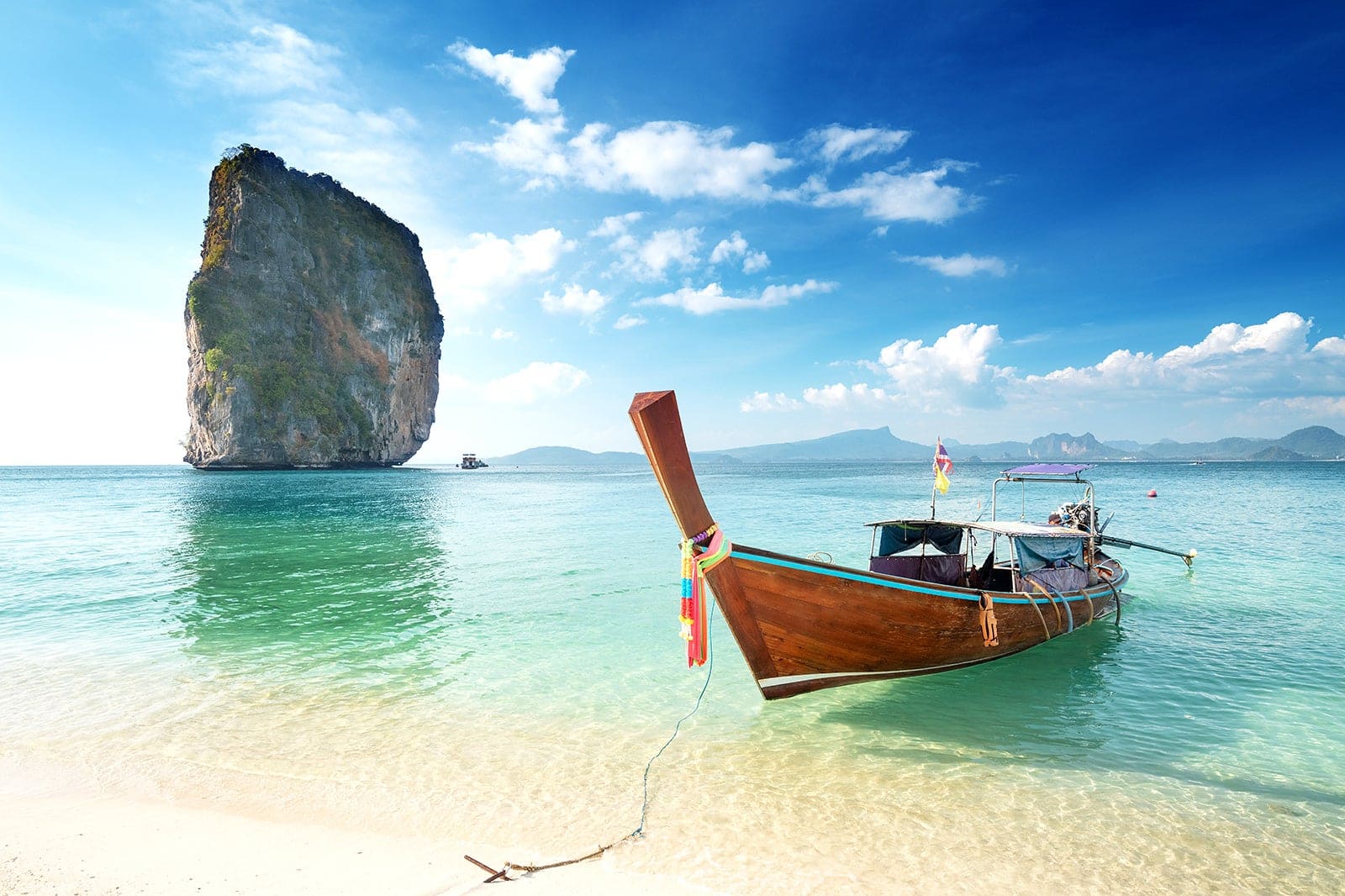 Koh Poda is one of the most popular islands in the Krabi archipelago. Located just 6 km off Ao Nang Beach, it takes about 25 minutes to get there by long-tail boat. Covered with palm and pine trees and almost entirely encircled by a soft white-sand beach, it is every inch the stunning tropical getaway. A coral reef lies about 20 meters from the beach, where you can encounter a variety of sea life.
3. EMERALD POOL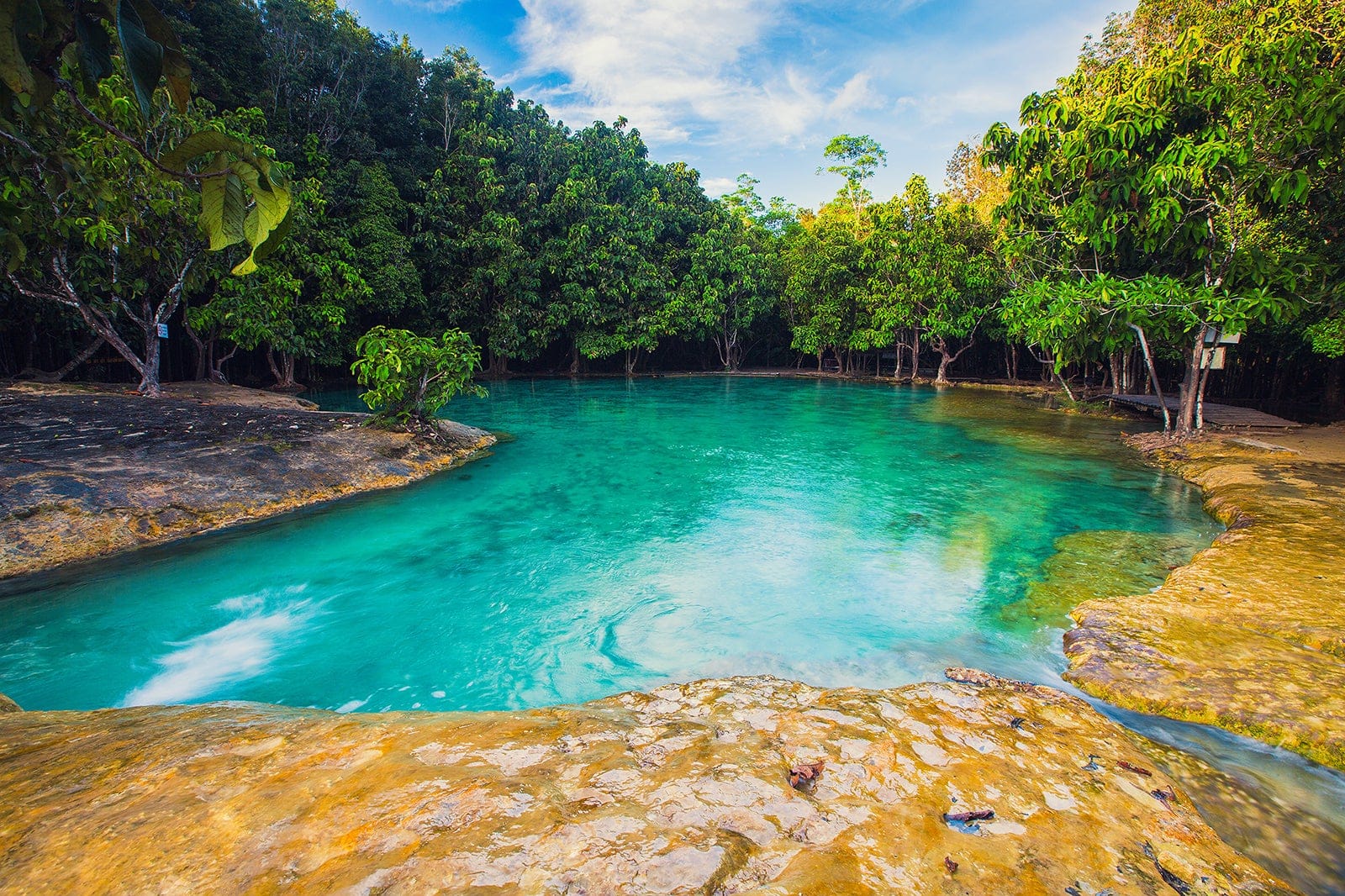 The Emerald Pool is a famously vibrant natural pond in the Thung Teao Forest Natural Park. The park is a lowland forest rich in biodiversity, complete with a nature trail. Alongside the stunningly beautiful Emerald Pool is the Blue Pool, also noted for its vivid and distinctive color. Both get their namesake colors by reflecting the sun and surrounding jungle.
4. KOH HONG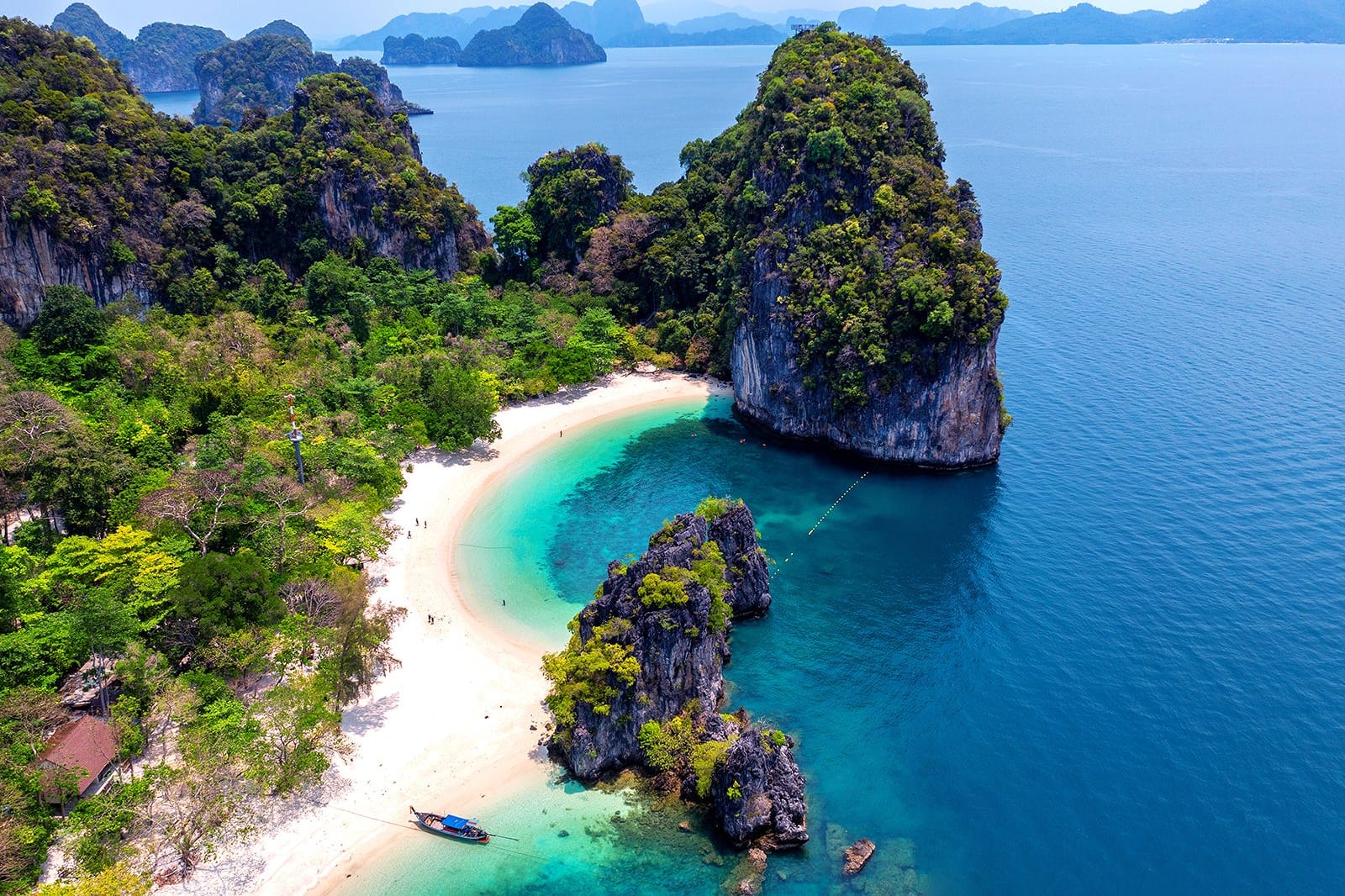 Koh Hong, off the Krabi coastline, is where you can get away from it all. On these islands, you can spend your day doing nothing but lazing on virgin sands. This wonderful group of tiny islands offers breathtaking scenery, soft white-sand beaches, coral reefs, and a beautiful lagoon. It's where you can enjoy swimming, kayaking, snorkeling, scuba diving, fishing, sunbathing, hiking, and picnicking.
5. WAT THAM SUA (TIGER CAVE)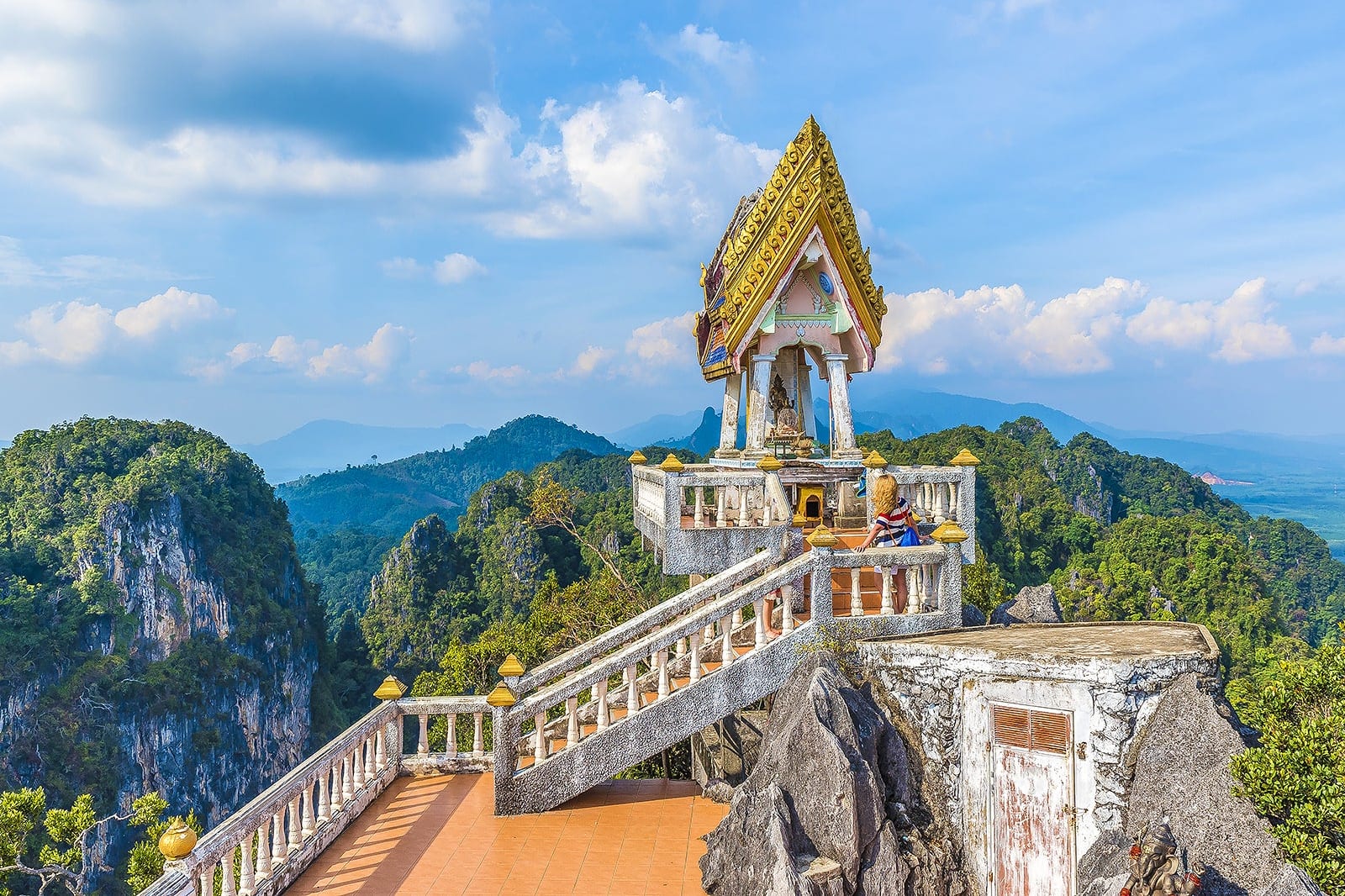 Wat Tham Sua or 'Tiger Cave' is one of the most famous caves in the area, located near Krabi Town. It's part of a temple complex where monks live and worship within a maze of natural caves surrounded by lush jungle. Inside one of the caves is what appears to be tiger paw prints embedded in the stone. The main tourist attraction, however, is the 1,272-step climb up a limestone tower to see the 'footprint of the Buddha'.
6. PHI PHI ISLAND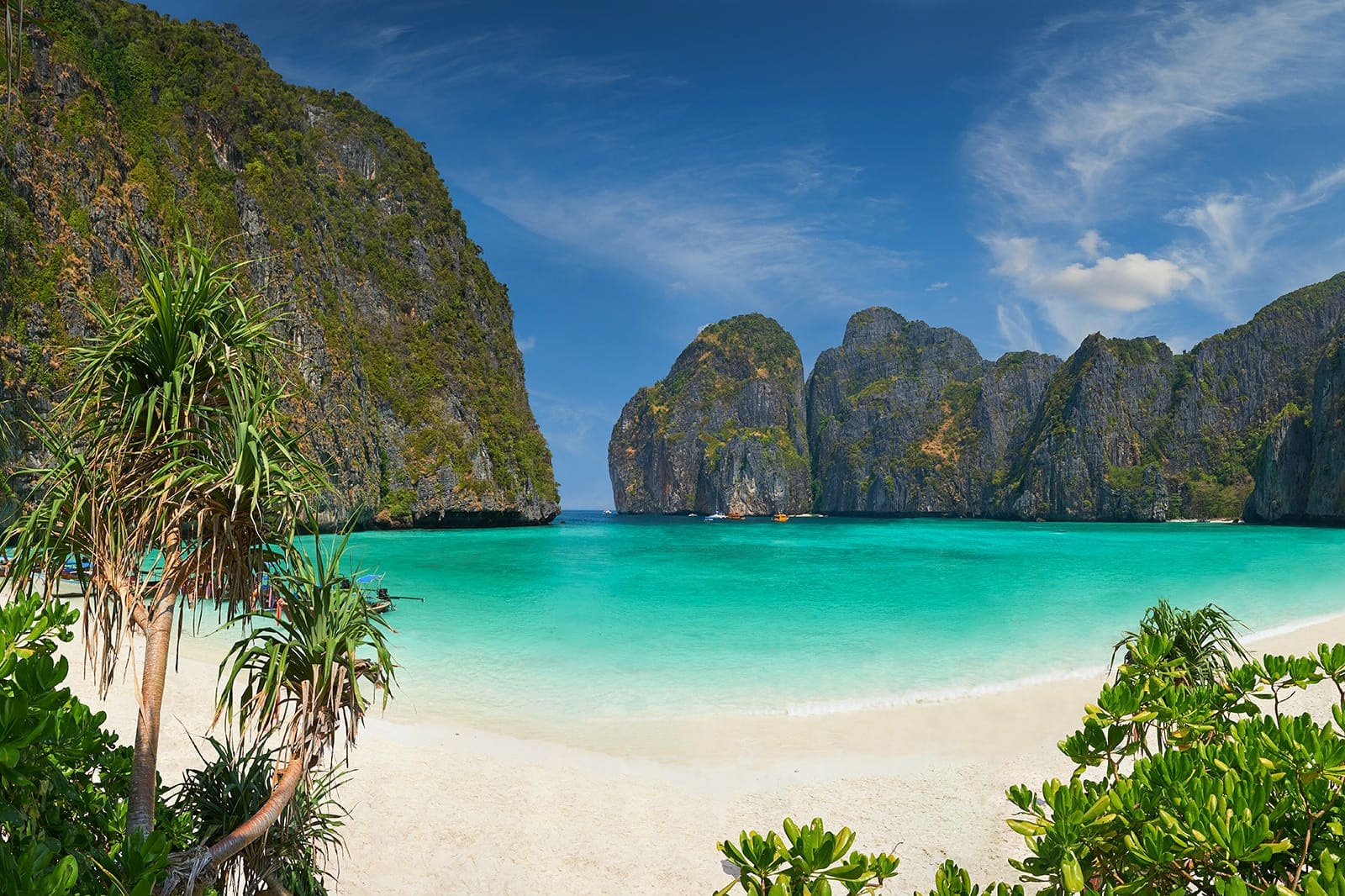 The Phi Phi Islands are some of the loveliest in Thailand. Located just a 90-minute ferryboat ride from Krabi Town, you'll find all that's required for a fantastic tropical holiday here. The main things to do in the Phi Phi Islands range from snorkeling to rock climbing, and from scuba diving to hiking. Phi Phi Don is also famous for its festive atmosphere, and it hosts an excellent dining scene.
7. KOH TUP & KOH MOR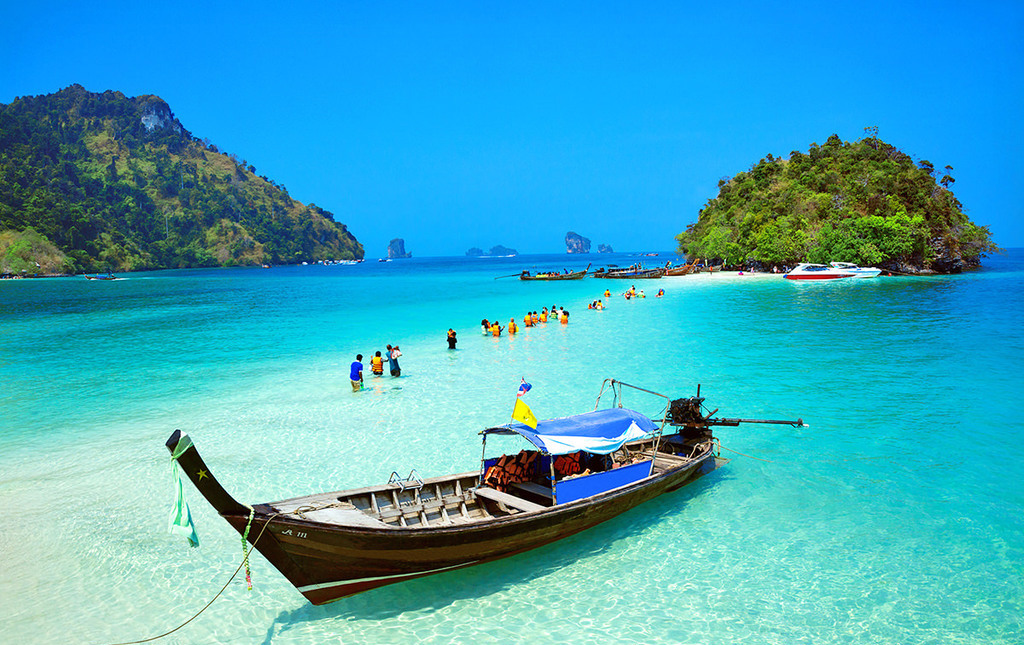 Koh Tup (also spelled Ko Tup, Koh Tub, or Koh Thap) and Koh Mor are islands within the Krabi archipelago. They are linked by a sandbar that also leads to Koh Kai, a third island, at low tide. Apart from this unique walk and the excellent snorkeling opportunities, there's not much to do here beyond relaxing in a tropical paradise. There's also a short hike to Koh Tup's summit, which offers a cool view of the other islands around.
8. KLONG THOM HOT SPRING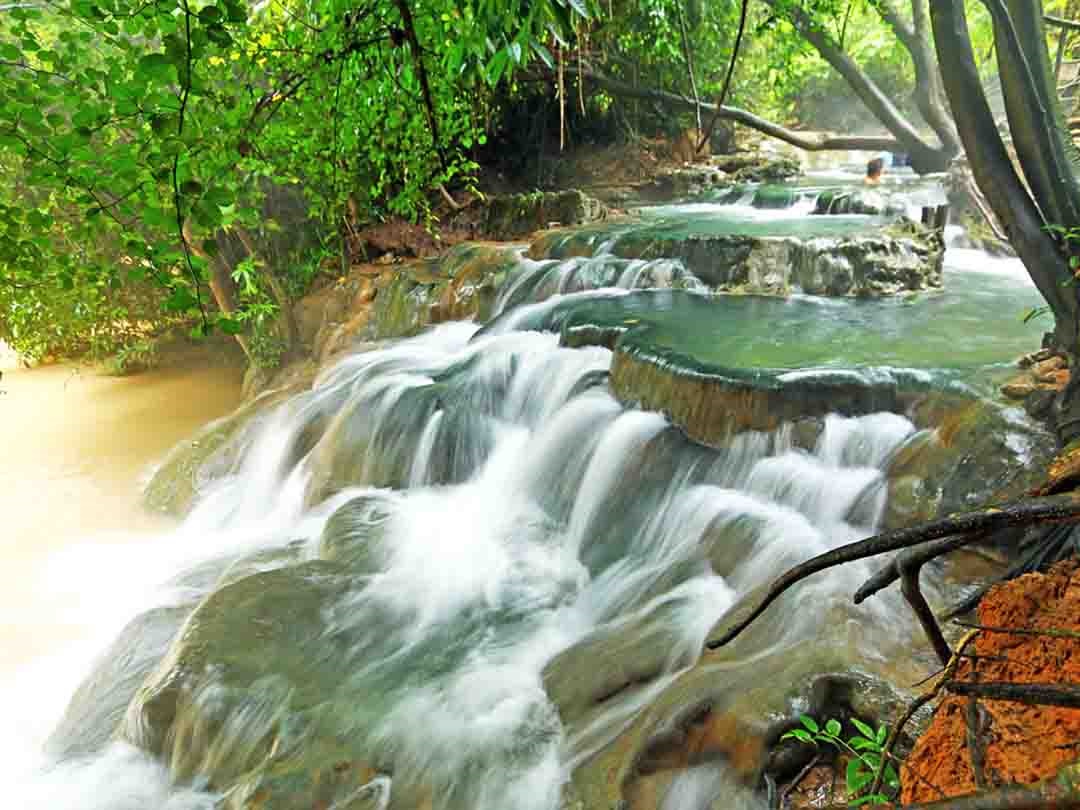 The Klong Thom Hot Spring also referred to as the Khlong Thom Saline Hot Spring, is located in the jungle near the Khao Phra Bang Khram Nature Reserve. Ancient volcanic chambers are the origin of these thermal springs. The waters from the hot springs are believed to ease a number of ailments such as rheumatism, sciatica, and other skin problems. They offer a pleasant time, bathing in the warm water surrounded by a pristine lush environment.
9. KRABI TOWN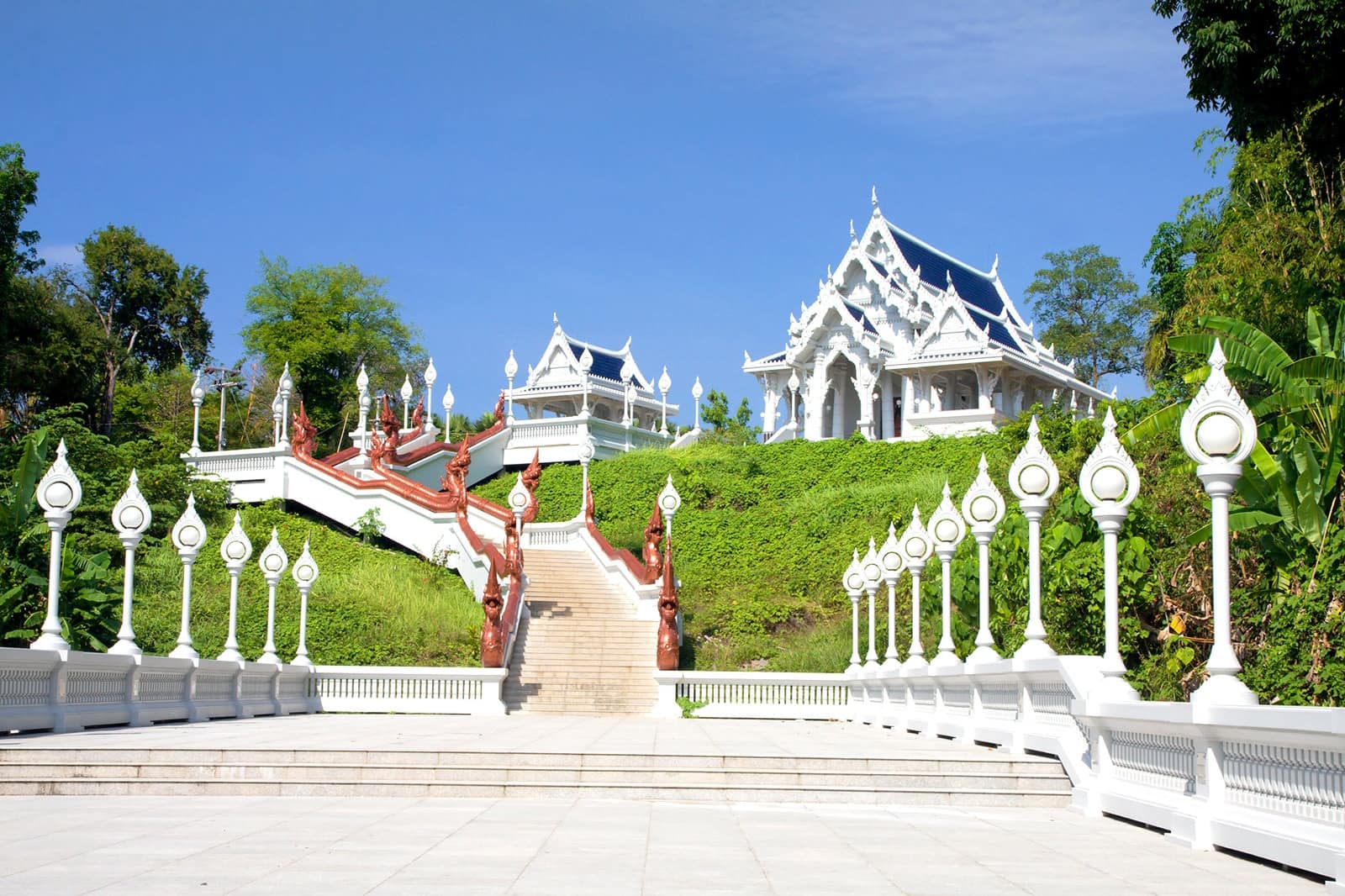 Krabi Town is a charming, laid-back, and very provincial Thai town. Tourism has arrived, but Krabi Town doesn't jump through hoops to bring in overseas guests. As the main commercial and transit point for the province, it doesn't need to. The unique personality of Krabi Town is a welcome contrast to the surrounding beach areas. For those interested in a dose of genuine Thai culture and hospitality, sticking around Krabi Town for a bit is a rewarding experience.
10. AO LUK MANGROVES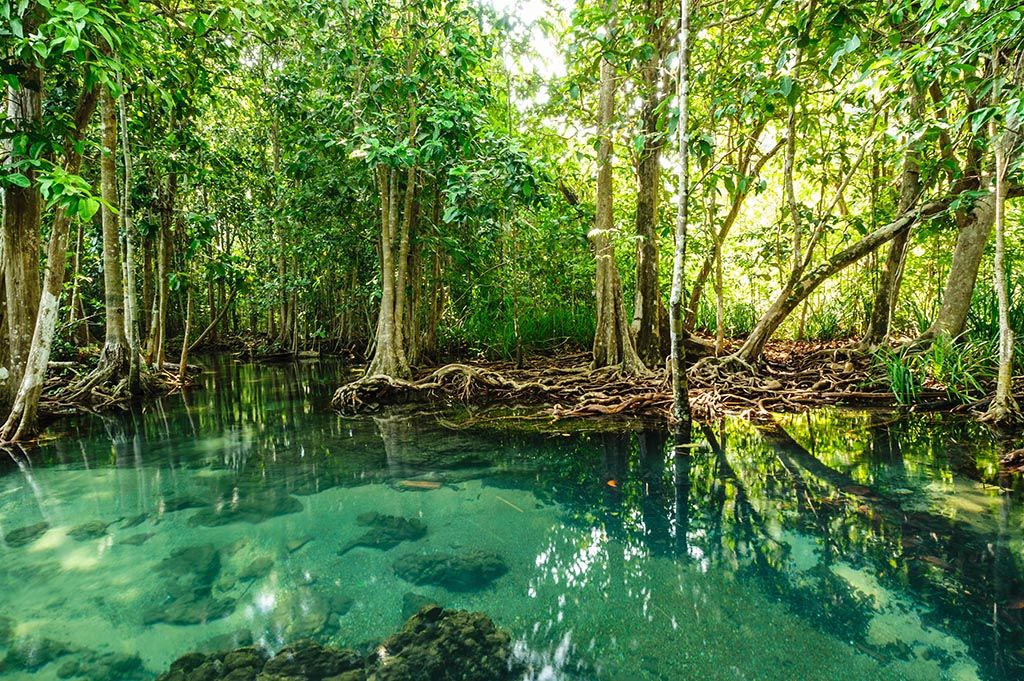 The Ao Luk mangrove forest and caves are a great field for exploration and soft-adventure experiences in Krabi Province. Tall limestone cliffs similar to those found in Phang Nga Bay dot the hilly lush landscape, and along the coast, mangrove forest and limestone cliffs offer sea kayakers an exciting tropical playground. The small town of Ao Luk is a genuine southern Thailand village that has been cut in two by the Krabi-Phang Nga highway. It is a charming place to have a short rest for people driving from Phuket to Krabi Town. Ao Luk District is located some 40 km north of Krabi Town, on the road to Phang Nga Town.